PULASKI COUNTY, Ark. -- For the second year in a row, the Pulaski County Special School District (PCSSD) is participating in the Arkansas Department of Education's (ADE) Teacher of the Year program. Through a rigorous selection process, each of PCSSD's 26 schools as well as the Center of Innovation, selected one educator as their school teacher of the year.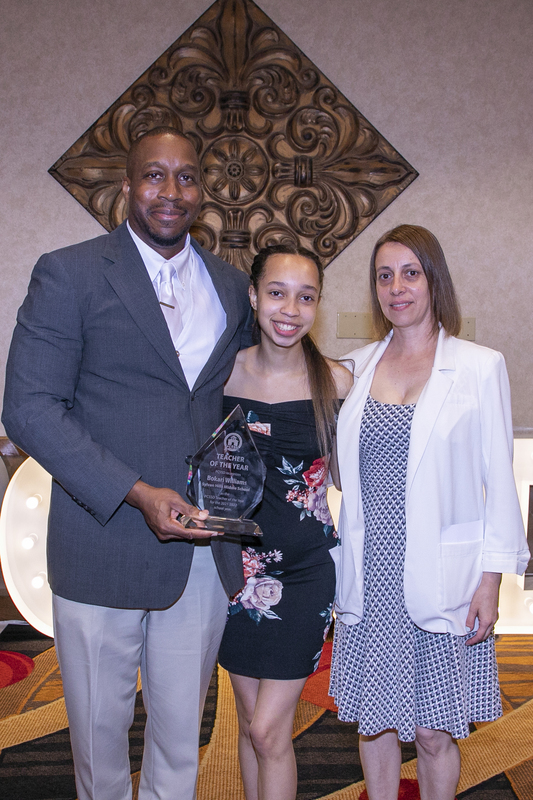 The District hosted an awards breakfast on Friday, May 13 to recognize the school winners and announce the PCSSD Teacher of the Year. The 2021-2022 PCSSD Teacher of the Year is Sylvan Hills Middle School teacher Mr. Bokari Williams. Last year's winner, Shanon Hum, was also from Sylvan Hills Middle School.
Wiliams has been an educator for 15 years, focusing primarily on the secondary level in the area of English Language Arts (ELA). Williams has served as an ELA teacher at Sylvan Hills Middle for the past two school years. Prior to working in PCSSD, he worked in the North Little Rock School District as well as the Jacksonville North Pulaski School District. Prior to moving to Arkansas, Williams worked in education in Massachusetts.
In a letter of recommendation, Sylvan Hills Middle School principal Mr. Mike Hudgeons said, "[Williams] seemingly never has a bad day; he's unfailingly pleasant to staff and students alike each and every day." "[He] is one of those teachers that kids talk about years later when they recall who had a positive influence on them and the future," Hudgeons added.
Williams was selected out of 27 other PCSSD school-level winners and will now move on to represent the District in the 2023 Arkansas Teacher of the Year Program. In addition to receiving a plaque, each school winner will receive a check for $100. The District winner will receive a check for $500.
PCSSD followed the Arkansas Department of Education Division of Elementary and Secondary Education (DESE) Teacher of the Year guidelines, including the teacher's impact on school culture, leadership in and out of the classroom, and student connections.
| | |
| --- | --- |
| SCHOOL | TEACHER |
| BAKER ELEMENTARY | Dawn Bartels |
| CATO ELEMENTARY | Kristy Robinson |
| CHENAL ELEMENTARY | Caitlin Spencer |
| COLLEGE STATION ELEMENTARY | Tonya Colen |
| CRYSTAL HILL ELEMENTARY | Laura Campbell |
| DAISY BATES ELEMENTARY | Erica Mack |
| HARRIS ELEMENTARY | Jackie Hayes |
| LANDMARK ELEMENTARY | Audrian Harville |
| LAWSON ELEMENTARY | Bettye Mhoon |
| OAK GROVE ELEMENTARY | Jacqueline Thompson |
| OAKBROOKE ELEMENTARY | Brittany Slayton |
| PINE FOREST ELEMENTARY | Erin Dearasaugh |
| ROBINSON ELEMENTARY | Elise Moore |
| SHERWOOD ELEMENTARY | Rachel Gammill |
| SYLVAN HILLS ELEMENTARY | Beth Hendrix |
| WILLIAM JEFFERSON CLINTON ELEMENTARY | Christy Hobbs |
| MAUMELLE MIDDLE | Andrea Johnson |
| MILLS MIDDLE | Ethan Moore |
| ROBINSON MIDDLE | Dawn Irby |
| SYLVAN HILLS MIDDLE | Bokari Williams |
| SYLVAN HILLS JUNIOR HIGH | Callie Seats |
| MAUMELLE HIGH | David White |
| MILLS UNIVERSITY STUDIES HIGH | Gregory Hamblock |
| ROBINSON HIGH | Michelle Young |
| SYLVAN HILLS HIGH | Prentice Dupins |
| CENTER OF INNOVATION | LaTiya Cooper |
| DRIVEN VIRTUAL ACADEMY | Clarence Guy |